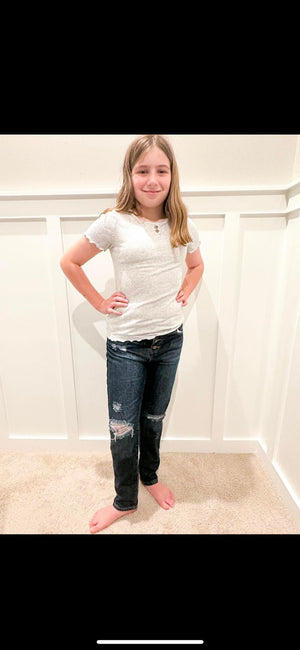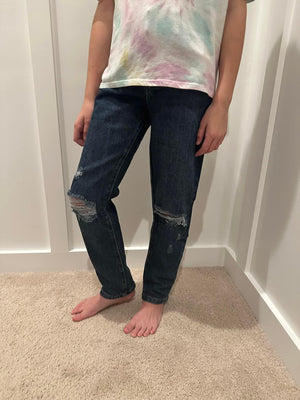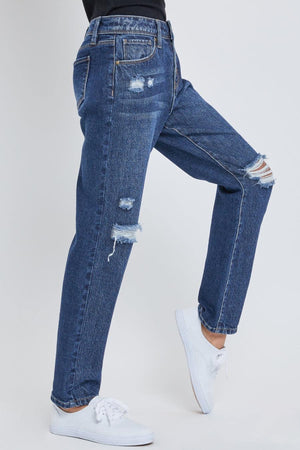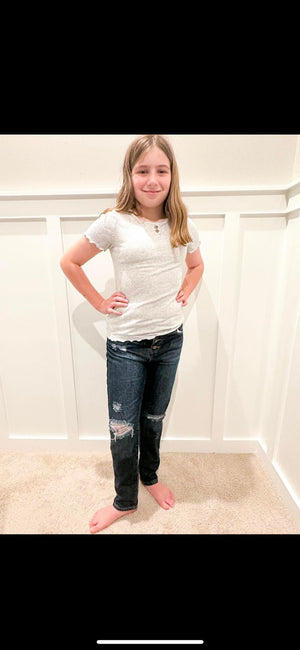 YMI girls jeans- rts
Ymi brand. These are amazing.
We have such a hard time finding jeans for my kids
We normally love Abercrombie because they fit well
My fave boutique brand is YMI because of the quality and the price tag
The girl with the tell your dog I said hey is wearing a size 8 She's super petite and slim and always has a hard time w jeans and needs a belt with every pair-
The girl wearing the gray solid top is wearing a 14 She's built thicker around her tummy and these fit. Unlike my other girl , she can never wear jeans bc they are usually always too tight on her. These fit her perfectly!
Both are in their normal sizes in jeans.
These jeans have 3 snap buttons and one regular button
These have 5 functional pockets
Size 7(2) 8(3) 10(3) 12(2) 14(2)
Size 7 - waist 23".
Size 8- waist 23.5"
Size 10- waist 24"
Size 12- waist 25"
Size 14- waist 33"
Priced at 29.99 plus ship😍
My 9 yo (tell your dog I said hi) normally wears an 8 in old navy but always has to wear a belt bc they pretty much fall off of her but needs length of size 10. These are perfect on her length wise
My 10 yo usually wears a 14 w Abercrombie
These fit just right on her