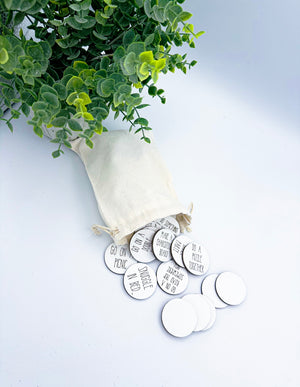 Couples date coins (laser)
Rated PG Valentine's Day couples tokens
For anyone who didn't like my rated r ones lol 😆
These are beautiful and perfect for any couple to remind each other to make time for each other in todays crazy busy world.
List of tokens that come in the bag
#1 go on a picnic
#2 go on a road trip to somewhere new
#3 date night planned by him
#4 go to trivia night (or music bingo etc)
#5 do something you never gave before (could be cooking class, dance 💃 class, )
#6 have friends over for a game night
#7 explore a local city or town
#8 snuggle in bed- turn off your social media and phones and just snuggle
#9- make a sweet charcuterie board
#10 plan a weekend together away
#11 date night planned by your partner
#12 bake something together
#14 date night planned by her
#15 watch the sun rise
#16 visit a local brewery
#17 make a bucket list
#18 make a charcuterie board
#19 every day for a week, leave each other love notes
#20 host a dinner party
#21. Do a puzzle together
#22 look at wedding pictures/ video and eat cake
#23 find a new restaurant 30 minutes a at and go get it
#24 go on a double date
#25 visit a local historical spot
#26 take out and a movie in.
#27 have a 5 course meal in 5 different restaurants
#28 recreate your first date or on that you remember
#29 her movie pick
#30 watch the sunset
#31 his movie pick
#32 go to your partner's favorite restaurant
#33 go bowling
#34 go on an icecream date
#35 go to his favorite restaurant
#36 do a random act of kindness
#37 go to her favorite restaurant
#38 wrote a love letter to each other
#39 find a new recipe to make together
#40 volunteer together
Plus 5 blanks
You can use a dry erase marker in the blanks and it wipes clean.
29.99 plus ship. Limited time only for these.